The Highest Print Standards
Pairing the highest quality printing components with that expertise has allowed us to bring a fresh outlook on how our printing products are designed and executed. All of our printing is created to exceed industry standards, and we're proud to continue to offer creative and exciting ways to bring our clients brands, products and messaging to life!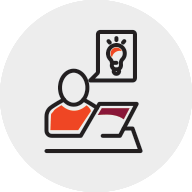 Graphic Resources
We have skilled project managers that work directly with you or your marketing department or advertising agency. We help you develop a consistent graphics package for use on all of your barricade projects.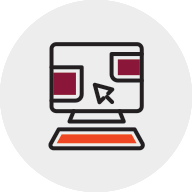 Graphic Design
We create 3-D computer renderings of your graphics design positioned on a barricade before you commit to production.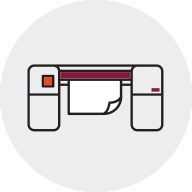 Grand Format Printing
Backing up our skilled staff are the best printers in the business. We run 7 grand format printers, coast-to-coast, around the clock. That means faster prints, shorter lead times and lower costs. We are limitless with the types of retail graphics we can produce.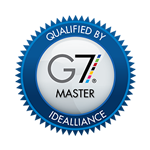 G7 Master Certification
The G7 Master qualification seal means that Boston Retail Solutions uses the most modern technology, techniques, proofing and press controls, and standards required to produce a close visual match from proof to print.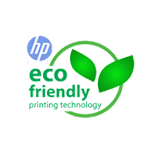 HP Certified Eco Friendly Print Facility
Our ink & print system is the most eco-friendly process in the industry. The water-based inks produce vibrant, consistent color without nasty odors or environmental hazards. All of the ink & hardware is recyclable. The printers we use are Energy Star qualified, which means that they meet strict energy efficiency guidelines without sacrificing performance.
"They are able to take care of things from beginning to end - barricade, installation and graphics. The company is a pleasure to work with."

"They just get it and they specialize in what they do and have it down to a science. This allows me to have no extra concerns and nothing to worry about."

"One stop shop, project management is exceptional, my favorite vendor. Quick to respond, knowledgeable, knows every mall situation."

"You guys make my life so much easier. Your project management efforts are always spot on and both your barricade and graphics teams do a really good job for Forever21. We are delighted to work with you. Keep up the great work!"

"They are a great company to work with and I would highly recommend them. Our account team has always been a pleasure to work with."

"Working with BRS became a real point of convenience as the barricade and installer comes from one company; this arrangement allows you to do the barricades and graphics in the same night."
"Before using BRS contractors build the barricade and we used another company to install the graphics. We selected Boston Retail Solutions because they do it all. It's been an excellent experience."

"Boston Retail Solutions is right there. This was not always possible - before too many different players handling small segments. BRS handles the entire process more quickly and it's seamless."

"They are an excellent partner - like an extension of who we are. We work together and they work with me, not against me."

Our team is ready to start your large format graphics project.
Contact us for solutions that are On Brand. On Time.